Fox Island United Church of Christ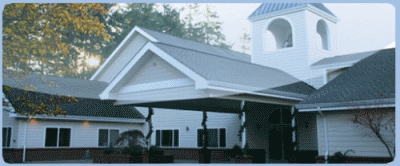 Serving the Gig Harbor area since 1892, originally as a Congregational Church, FIUCC is at its best through the collaborative effort of its congregation and its ministry. Our best is reflected in our Worship Service on Sunday, in our Mission and Outreach, and in our various programs and fellowships. At our foundation, and reflected by virtually every member of the church, is our dedication to being inclusive to any individual seeking a place of worship. "Wherever you are in your spiritual journey, you are welcome here." We not only welcome all of God's Children, we encourage each individual to develop their relationship with God in a way that resonates most meaningfully with them personally.
Many of our parishioners have come to our church looking for a Sanctuary that rather than being rigid in its doctrine and socially exclusive, is open to all. We can not practice peace while simultaneously showing intolerance for beliefs that are different than our own. Jesus understood that peace follows love. Love is accepting our brothers and sisters as they are, seeking out their strengths, accepting their differences; respecting their beliefs, and encouraging them on their path to self-discovery. This "Inclusive Theology" is the fundamental doctrine at the Fox Island United Church of Christ.
In our Sunday Service, we carry on a tradition, begun in Russia, of lighting a candle, each week, as a prayer for peace. We later take a moment, after praising God aloud, to turn to one another to pass the peace of Christ. This moment unites us in our worship and in our fellowship as followers of Jesus. We sing hymns and psalms and celebrate God's gifts with special music often performed by members of the congregation. Our church choir is vibrant and contributes beautifully to this celebration. Our pastor shares a moment each Sunday in front of the congregation with our children, relating the week's message to them. We therefore come to the lesson "With the eyes of a child." Our pastor's message has often drawn from many enlightened individuals over the course of history, be it Jesus and the prophets, or the Buddha, Martin Luther King or Mahatma Gandhi. We look for wisdom and peace from all who practice it.
At the Fox Island UCC "Communion is open to all." This invitation (given once a month) not only suggests that anyone might come to the Lord's table, but just as importantly, "Open" suggests that this sacred ritual has unique meanings to different individuals. All are welcome here, no matter how one views his or her relationship with Jesus.
Each Sunday we take the opportunity to allow any member of the congregation to share a prayer of thanksgiving or of petition with our church family in worship. This is an opportunity for us once again to understand and support each other as individuals and members of our family, and to share our joys and concerns. Truly we are a body of Love, a community better prepared to share that love when we leave worship. And we close each Sunday holding hands and singing aloud our postlude: a wish for each other that the "…Lord bless and keep you forever."
Outside of Sunday Service, we have several additional opportunities for spiritual growth. "Wednesday Night Live" is a program often led by the pastor or by a member of the congregation to explore interdisciplinary spirituality, or social issues relevant to our mission to seek peace and to practice love.
Our Christian Education Program meets weekly to explore the Bible: its history, its literature and its wisdom.
Women's Fellowship is a small but powerful ministry group which meets once a month to be together in care and sisterhood. Women's Fellowship gives back to our own church's needs and wishes, as well as to local and worldwide causes through fundraisers and other events. One ministry of Women's Fellowship is the Prayer Chain, approximately 30 members strong. We faithfully take requests for prayer from within our congregation and beyond, sharing God's Love, and staying connected with His children.
Our Mission and Outreach Program focuses on helping those who struggle with the most basic of needs: Food, Shelter and Education. This work transports our church family, spiritually, and sometimes physically to places like Nepal, Indonesia and Guatemala, to name a few. Our teens travel to Tacoma several times a year to places such as homeless shelters, and retirement homes.
We also have a burgeoning theatre group that has been wonderfully supported by the church council, the congregation, and by the community beyond our church family. This group has proved to be a marvelous opportunity for artistic expression for many of us, as well as an opportunity to explore alternative ideas. In the past two years this new group has produced Arthur Miller's The Crucible, as well as Inherit the Wind, a fictionalized account of the famous Scopes trial. Additionally, we have performed two different musical comedy productions as Christmas Pageants, which relied heavily on youth involvement. Our kids also prepare and sing songs for us in service on special occasions.
Our church family also enjoys a themed retreat each spring. At these weekend retreats, artistic expression, for example has often been encouraged as a means to connect us to the gifts that God has given each of us which often lay below our daily trappings, sometimes undiscovered and often under-utilized. These retreats offer a wonderful opportunity for both fraternity and self-reflection.
To see the Fox Island United Church of Christ at its best, have a seat in any pew on any given Sunday. Gaze out at the majesty of God's creation framed by the windows overlooking Puget Sound and the Olympics beyond, and listen to the Organ and Choir filling the space. But to be inside looking out is entirely the wrong vantage point. To truly see the FIUCC at its best one must turn around and look back at the loving community that is holding its doors open to share that love with any who care to enter.