Frequently Asked Questions
For more information or reservations please contact:
Rod Leveridge
*What is the seating capacity?
The sanctuary will seat up to 250 guests. We also have adequate parking available.
*How much time do you provide for wedding rentals?
We allow 4 hours for your wedding between the hours of 9:00 a.m. and 9:00 p.m. (with the exception of Sunday mornings). All weddings will include a 1 hour rehearsal time typically scheduled the day or evening prior to your event date. Extra rental time may be arranged.
Please Note:
Some clients may accomplish both a rehearsal and partial set-up within the scheduled rehearsal time, or some may need an additional rental hour.

*Are the church facilities available for initial tours and follow-up visits?
You may arrange to meet with Rod Leveridge anytime by appointment . Please contact Rod at
cre8tvndvr@comcast.net
or 206-930-2239. There will be a prompt response to emails and phone messages.
*May the client provide their own minister, musician, florist, photographer, etc.?
We highly recommend Pastor Janet Matthew for your wedding ceremony, however, if you wish to use someone else please contact our wedding coordinator so that arrangements may be made.
Please Note: The FIUCC has an exclusive arrangement with its organist/pianist, Meredith Shanley. She is highly recommended as pianist and accompanist and is the only person authorized to use the church organ.
*What is the rental rate of Church for Weddings?
Facility Rental: $1000.00
Includes:
-6 hours
(rehearsal, event, deliveries, set-up, decorating, photography, clean-up, etc.)
-Wedding Facilitator
-Wedding Custodian
-Indoor Ceremony Sound/Lighting Technician*
(*sound and lighting for outdoor weddings is an additional $100)
Reception: $400.00
Includes: facility, facilitator, custodian

FIUCC Pastor - Officiating: $350.00 (includes pre-marital counseling if requested)
FIUCC Pianist/Organist: $200.00
Security/Damage Deposit: $250.00 (due at time of booking)
*Is there a space provided for outdoor weddings and receptions?
We have a beautifully landscaped grassy area on our lower property, with a panoramic view of the Puget Sound and Olympic Mountains. There is space for 250 guests and we can provide up to 170 white folding chairs. There is also a patio area that is perfect for receptions that has an amazing view from the upper level.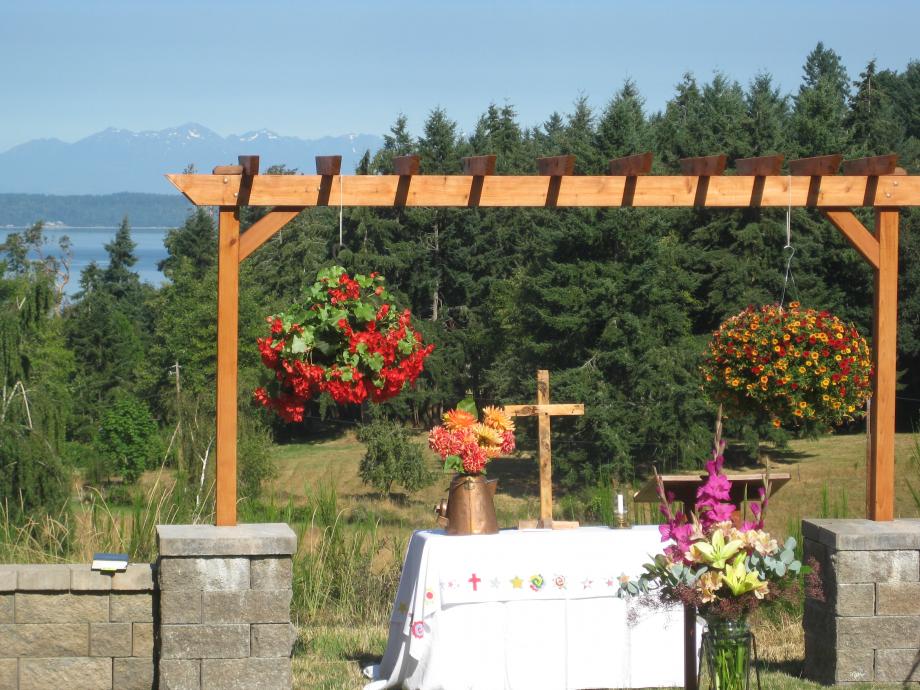 *What wedding-related items will the FIUCC provide and will there be an additional charge? Please refer to our complete list: Amenities and Items For Use.
*Is the deposit included within the rental fee? What happens if we need to cancel?
The refundable security/damage deposit is a separate charge in addition to the rental fee and is due at the time of booking. The total rental fee is due 30 days prior to your event. A $100 booking fee will be charged if your event is canceled more than 30 days before your event. You will forfeit the entire $250 deposit if you cancel less than 30 days before your event.
*Under what conditions would some or all of the deposit be withheld? When will the deposit be refunded?
An infraction of our Rules and Policies or damage to or loss of FIUCC property may result in forfeiture of part of your deposit. Deposit refund checks are typically mailed within two weeks after your event.
*If our wedding preparations (decorating, set-up, or clean-up) require more time before or after our scheduled rental time, what is your policy about extending our hours?
The church desires to make your event special and memorable and will work with you within scheduling limitations. Arrangements for additional time can be made ahead of time but the church must be closed and the parking lot vacated by 9:30 p.m.
*Is there a policy on alcohol?
Yes. Please contact Rod Leveridge at 206/930-2239 for information and details on our alcohol policy.
*What area is provided for dressing rooms?
Women have private use of the Bridal Dressing Room and restroom that are located in the church office. There are mirrors, tables, and chairs, good lighting, and multiple electrical outlets. Gentlemen may have use of the Choir Room near the front of the sanctuary as a dressing area, with nearby access to the restroom facility and the outdoor patio.
*What is the policy on flower petals, candles, and decorating in general?
(Please review our policies prior to your purchases)
We say "yes" to the use of flower petals, potpourri, and candles and "no" to birdseed, rice, and confetti. There is also a "no attachment" policy in the Sanctuary and at the church in general, but you may wrap, twist, or tie to secure decorations. All decorations, their attachments and uses, must have the prior approval of the Wedding Coordinator.
Please Note: Decorating plans must be restricted during the month of December, as the church will be decorated for the Advent and Christmas season.
How much of the set-up and clean-up is the client's responsibility?
The sanctuary must be left in its original condition upon your departure, so please arrange for your own work parties for the removal of decorations and the returning chairs and furnishings.
Where is the Fox Island United Church of Christ located?
Fox Island is visible to the south when crossing the Tacoma Narrows Bridge and is a short 15-minute drive from Gig Harbor. On I-5 from Seattle or Olympia, merge onto Highway 16 and take the Bremerton/Gig Harbor Exit. Cross the Narrows Bridge and continue for 2 miles on Highway 16. Take the Olympic Drive Exit and turn left onto the overpass. From that point you may follow the signs to Fox Island, using the following instructions:

* Follow Olympic Drive (which becomes 56th Street NW) until you come to the first 'T' intersection
* Turn left onto Wollochet Drive and follow the main road through two lights
* At the third light, bear right as the main road turns into 40th Street
* At the first stop light intersection, turn left from 40th Street onto 70th Avenue
* Turn right at the "T" and continue on 32nd Street (which becomes Warren Drive) until you come to the sign for the Fox Island Bridge
* Bearing to the left, cross the bridge, and continue down the main island road, Island Boulevard for 1.9 miles.

There will be another large church on the left-hand side of the road, but look to the right for our driveway about ½ block past this church.

The Fox Island United Church of Christ is on your right and the driveway is located at the end of a chain link fence surrounding our tennis courts. You can see the belfry from the road.