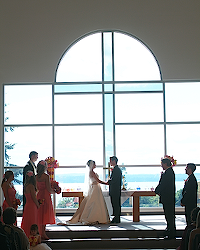 Welcome! Thank you for your interest in our beautiful sanctuary at the Fox Island United Church of Christ, located near Gig Harbor, WA, as the venue for your upcoming wedding.

The roomy sanctuary, modeled after the historic Chapel on Echo Bay, offers a picturesque window cross along with sunset views over the Olympics. Sunset schedules are available!

With seating for up to 250 people, rest assured that your guests will revel in breathtaking panoramic view of Fox Island, the waters of Puget Sound, and majestic Olympic Mountains. We are here to help you make the most blessed day of your life a memorable celebration!

If you prefer an outdoor wedding, the same amazing view may be enjoyed from our newly completed outdoor venue. Our patio overlooking the water, adjacent to the Fireside Room and kitchen, is the perfect place for your wedding reception or family gathering.

Our wedding coordinator is prepared to assist in your wedding planning with ideas that offer unique ceremonies, affordable services, and tips to accommodate any of your needs.
For more information or reservations please contact: